Whether it's a matter of efficient pumping, ventilating and compressing, or precise movement, processing, or machining, the number of application areas for frequency converters is almost endless. So it's good that there is one family of drives for all of these areas that fulfils every requirement perfectly: SINAMICS.
Our portfolio represents uniform engineering, extremely high efficiency and convenient operation.
Siemens innovative design provides the right frequency converter for every drive application. The products range from basic drives, dynamic servo drives for Motion Control to medium voltage drives plus tailored solutions. SINAMICS, the worlds largest drives family, is the backbone of out offer, besides our portfolio of MICROMASTER and LOHER DYNAVERT frequency converters.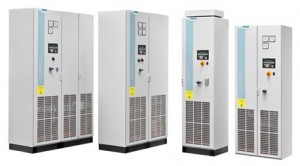 We supply brand new and refurbished Siemens inverter drives with the same 12-month warranty supplied on brand new parts – but you benefit from substantial savings. All refurbished Siemens AC frequency inverters and DC drives are fully tested using our bespoke Siemens test rigs and have been load tested for a minimum of 72 hours. We also replace all serviceable components to ensure the long-term reliability of your Siemens drive.
Recommended list for three phase SINAMICS VFDs
For non-stock items we have an excellent international supplier base for Siemens drives and can source virtually any part.
Contact us or request a quotation now.